In today's post, you will learn how to craft and use Lectern in Minecraft. 
Lectern Overview 
The Lectern is one of the 13 job site blocks villagers use to work. A villager who works with Lectern is called Librarian. You can always find Lectern inside the Librarian's house.
If there is an unemployed/jobless villager near a Lectern, it will become a Librarian.
You can use Lectern to hold a Written Book. So that other players can read it together. Before Lectern was released, players need to read it individually.
How to Craft a Lectern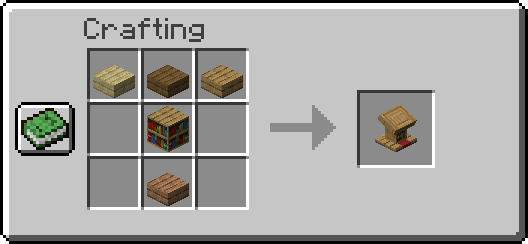 To craft a Lectern, you need 1 Bookshelf and 4 Wood Slabs (you can use any types of wood slabs to craft a Lectern).
How to Use Lectern to Hold a Written Book
Before you use the Lectern, make sure you have Written Book you want to place on the Lectern. To get Written Book, you need Book and Quill (you can craft book and quill using a Book, an Ink sac, and a Feather.).
After you've crafted Book and Quill, you need to write something on it. You can fill it with rules, messages, or even a to-do list.
After you've finished, you can start using the Lectern by placing the Lectern wherever you want. 
To use the Lectern, you need to click the Lectern while holding the Written Book on your hand.
The Lectern's menu (UI) is a bit different between Java Editon and Bedrock Edition of Minecraft. In Bedrock Edition, it shows 2 Pages at once but Java Edition only 1 Page.
So, that's how you can craft and use Lectern in Minecraft. To find other tutorials like this one, go here.